Moving Cleaners Carmel Indiana
Leave your home to top house cleaning services in Carmel, Indiana. Residents can find the best house cleaning service for their needs with our professional and affordable apartment or house cleaning services. We offer basic house cleaning and regularly scheduled cleanings to keep your home looking its best. Trust us to provide the highest quality cleaning services in the area. Contact us today to learn more about how we can help you keep your home clean and tidy!
Correa's Cleaning Service is a neighborhood favorite for spring cleaning services, regular cleaning, overall residential cleaning services, and more. Whether you're looking for house cleaning services or deep house cleaning, Correa's team can tackle any job with ease. They do a wonderful job with deep cleaning, leaving your home looking and feeling refreshed. So if you're in need of a deep cleaning, Correa's Cleaning Service is the perfect choice. Whether you're moving in or moving out, they can help get your house, apartment, or commercial location spic-and-span and ready for occupancy.
Professional Cleaning Services for Move-in & Move-out
Moving is a BIG job, but let us handle the rest of the dirty work so you can focus on more important things. If you're in Indianapolis area and need to find house cleaning services, look no further. Our house cleaner is a hard worker who will do a fantastic job, and we're confident you'll be extremely impressed with the results. From carpet cleaning to getting that family room back in working order, we're a cleaning company that's serious about delivering an excellent job and leaving your home spotless.
Typically, with a move-out or move-in clean, our cleaning checklist includes: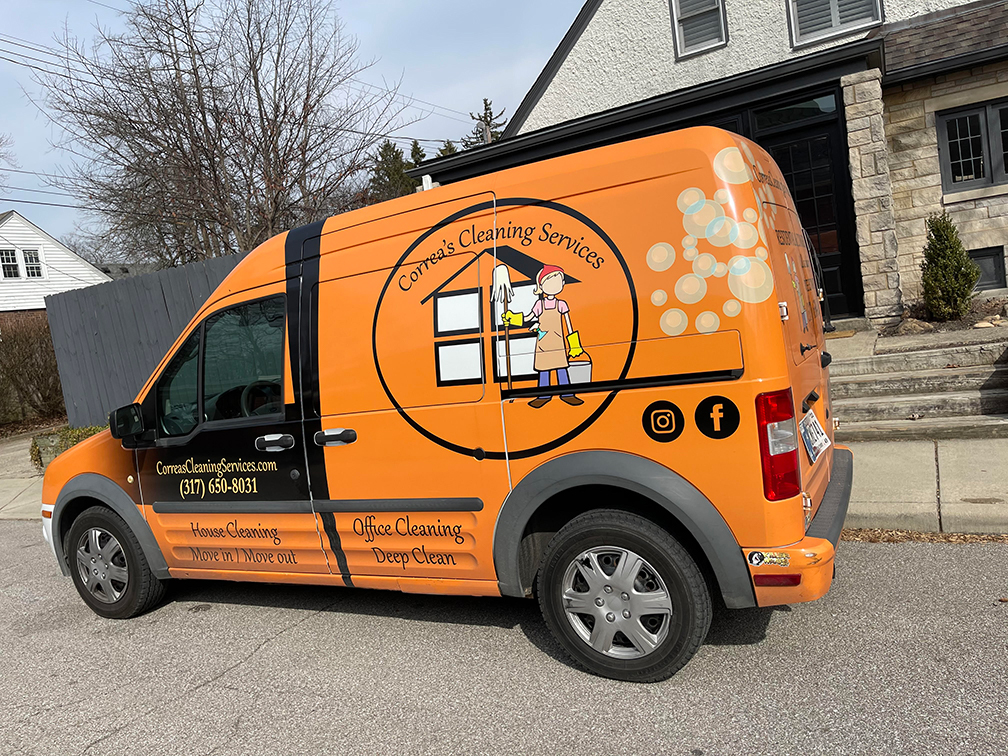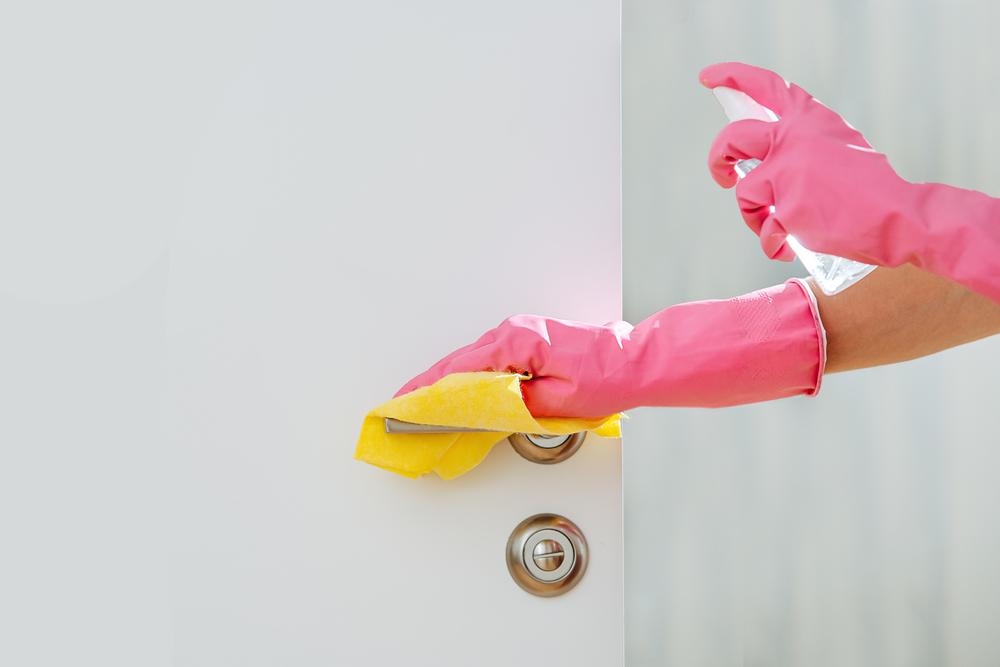 Clean doors & walls: Doors take a beating! From sticky fingers and cooking grease to collected dust and scuff marks, doors often get neglected. We'll make sure they're grease and dirt free so they add an extra wow factor during walk-through.
Dust and clean baseboards and trim: These are among the top-ten most neglected parts of the house, but we believe that clean baseboards and trim should be a part of a standard cleaning routine!
Dust the ceiling fans & light fixtures: We love dusting! Lucky for us light fixtures and ceiling fans are also dust and grease magnets. While it's easy to forget about these, they're a must for a move-out cleaning.
Clean windows & mirrors: Cleaning the windows and mirrors help bring in more light, which is big selling point for most homes. We'll make sure your windows and mirrors are spotless and streak-free. We'll also dust all the blinds and clean along window sills.
Deep clean any sinks, tubs, showers — and toilets: Deep cleaning the bathrooms is a surefire way to make sure a home feels fresh, even if a bathroom has older fixtures and tile. We'll scrub the toilet, shower, grout, sinks (including the faucets and drains) until they shine.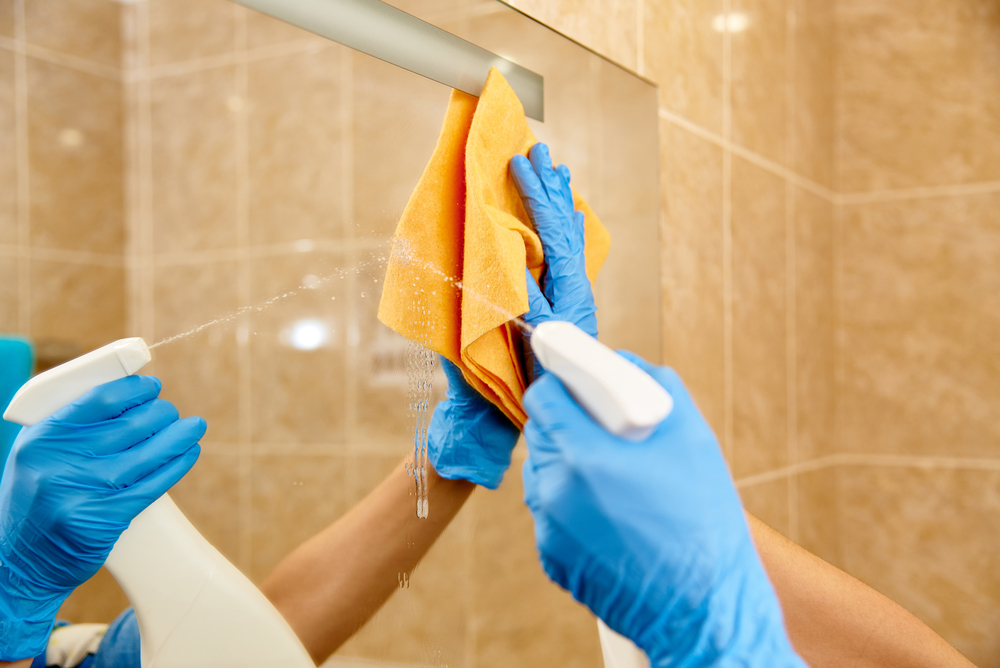 Wipe down cupboards and cabinets: One of our clients favorite move-in cleaning services is having cupboards and cabinets nice and clean! We'll make sure they're sparkling inside and out and free of crumbs, gunk and leftover food residue.
Shine-up appliances: Clean appliances make a really big impact during a walk through... and they're also big grease collectors (especially kitchen appliances!). We'll help make your stove and/or oven, microwave, refrigerator, dishwasher look practically brand new.
Sweep, vacuum, & mop floors: Most cleaning checklists might say that sweeping is enough, but we disagree! For pre or post move cleaning we make sure to to sweep, mop and steam clean if needed. Have a particularly messy pet stain? We consider ourselves stain experts and can work magic on seemingly impossible-to-remove pet messes.
Take out the trash: When you're busy trying to check all the other things off your list, it's easy to forget to take out the trash. We've got you covered!
Disinfection: The Correa team brings all their cleaning materials and tools to make sure the space is not only tidy, but free of germs.
If you're prepping for a move, call us today and make an appointment for our special moving maid service!
Customize Your Service
Please check our website and contact our cleaning team immediately for your specific requirements. Have a special request? We offer a wide range of professional maid services for homes that already receive regular cleanings.
At our professional house cleaning service, we understand that cleaning your home is more than just a chore, it's a responsibility. That's why we take pride in our amazing job and pay close attention to all the details, including those often-overlooked areas like bathroom cleaning.
We prioritize your health and safety by avoiding harsh chemicals and instead, we use eco-friendly cleaning products. Additionally, we understand that each home is unique, which is why we also provide add-ons that you can include or eliminate so you can customize your services as needed.
Rest assured, our local house cleaners are trained to deliver high-quality cleaning services while being respectful of your home and belongings. We always bring all our own equipment and cleaning supplies, so you don't have to worry about a thing. Contact us today to experience the difference in our professional house cleaning service.
We have extensive experience cleaning every kind or type of residential and commercial space. Our goal is to exceed all expectations and achieve customer satisfaction, every. single. time. We have hundreds of happy clients and believe our customers deserve the best possible service and support.
A Confident Clean
Our professional staff has been thoroughly screened for safety, and Correa requires background checks for all employees. We prioritize the safety of your property so you can rest easy that your belongings are safe and well-cared for.
Don't take it from us! Take a peek at one of our many verified reviews. Every review has come directly from verified customers who have had their house cleaned by Correa. With a rating based on community members who live near you, you can expect honest feedback about the service provided.
We also offer simple flat prices and secure cashless payment so you can quickly book cleaning services, anytime. No security deposit required!
Call us today to make an appointment! We'll work with your schedule. Whether you want weekly, bi weekly, or just a "once-in-awhile" spruce up, we can make sure you get the professional home cleaning services you need, when you need it!
Servicing Homes, Apartments & Commercial Buildings in Carmel, IN
Carmel, Indiana is a city in Hamilton County, north of Indianapolis in the city. You can find The Palladium in a 151,000 square-foot concert venue that features music theater and dance.
Carmel has grown from an unspoiled suburb to an active city where there is a huge number of park and restaurant locations everywhere.
You can find everything in downtown Carmel and it was rated among the best places for living in the United States by major online publications such as Money Magazine.
As a small business we love to help other businesses shine. Aside from residential and apartment cleaning services we proudly offer professional cleaning services in Carmel for:
Offices
Industrial warehouses
Retail
Medical facilities
Fitness, and
Educational facilities
Convenient Online Booking
Our reservation system has been simplified to allow you to book appointments in just 60 seconds.
Simply visit our website and select the "Book Now" button to schedule your cleaning service for your local house. Choose your desired service, whether it be a one-time great job cleaning or a regular time frame for cleaning. Our cleaning service experts will work around your schedule to ensure that your inside windows are sparkling clean and your house is looking its best. Just select a date and frequency, and we'll take care of the rest. Contact us today to arrange your maid service!
Free Estimates
Have a project in mind? Get in touch with Correa's customer service team, and we'll provide a free estimate for the house cleaning services and cleaning procedures you have in mind.
Before you schedule your first cleaning here's a few questions you'll want to keep in mind:
Do you need recurring or a one-time cleaning
Contact info (including phone number and location of space to be cleaned)
How large is space (e.g. floors, total square footage, etc)
Does the space have stairs
How many bedrooms and bathrooms need to be cleaned
Solution or material preferences (such as green solutions or hypoallergenic tools)
Any areas that need special attention (some requests may be additional)
We offer flat rate pricing and payment through a secure, online payment portal which means:
No hidden fees
No last-minute ATM runs
No hassle
We also offer a 100% Satisfaction Guarantee. Our customers are our top priority, and if you're not happy with Correa's work, we'll refund the cost of the job entirely.
What are you waiting for? Come home to a clean house today!
Environmentally Responsible House Cleaning
We believe it's each and every person's responsibility to do their part and take care of the environment... and that includes us! Correa always uses eco-friendly cleaning supplies that are safe for people, our pets, and for the planet.
We strive to use Eco standard:
Detergents
Materials, and
Equipment
We also work to minimize waste as much as possible, and prioritize sanitation of all our reusable products.
Established in 2018 by Ana Correa, Correa's Cleaning Services LLC is a locally owned business that specializes in providing detailed cleaning services for both commercial and residential clients. We set out to create a world-class cleaning experience that is trustworthy, reliable, and affordable. Our competitive rates make us an attractive choice for those looking to start a new cleaning service in Indianapolis or switch from an existing provider. So, if you're in need of detailed cleaning, we'd love to talk to you about all your cleaning needs!